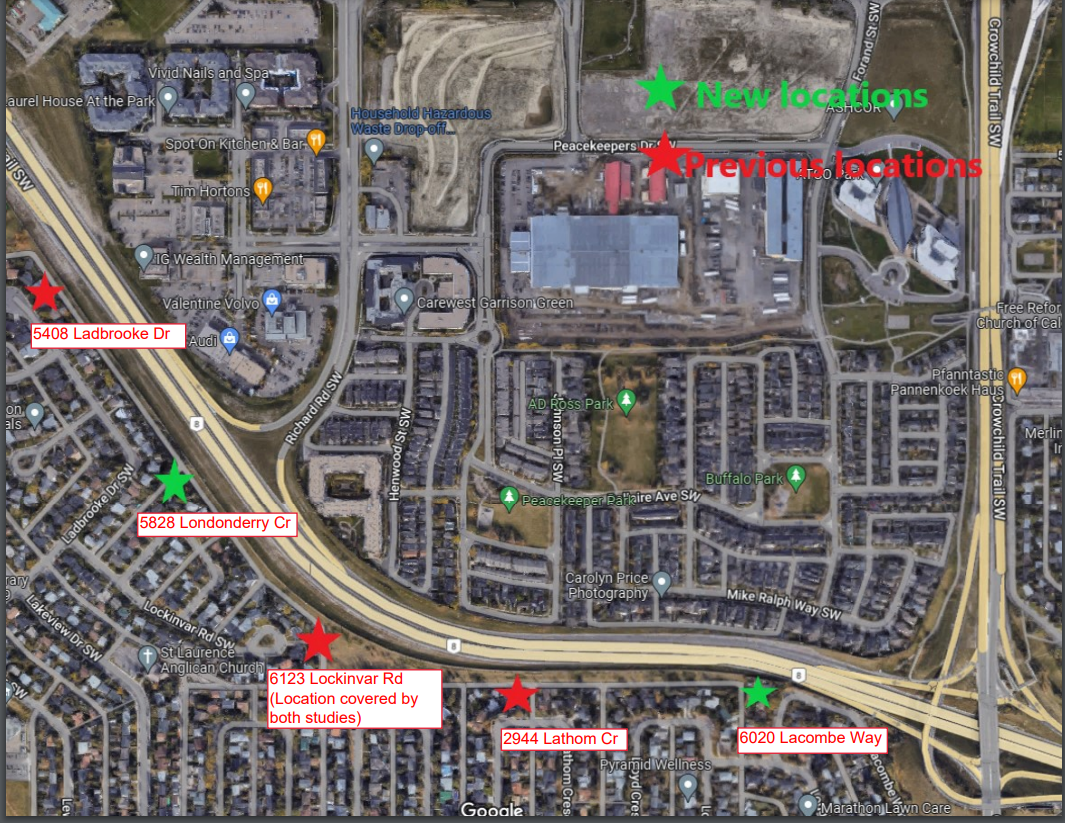 October Traffic Update
As you read this article, the kids will be back at school and parents will have settled back into their work routines. As we approach Fall, this is a good time to remind residents to look out for pedestrians and cyclists using and crossing our roads. Residents, please set a good example for visitors to our neighbourhood by following our speed limits, choosing not to park in restricted no parking/stopping zones and by not making illegal U-turns.
Here are some updates from the traffic committee:
Work will continue on the Crowchild bridge over Glenmore until Fall/Winter 2023. Please plan for delays during this time as there will be both bridge and lane closures. For regular updates and to sign up for the project newsletter go to: Calgary.ca/CrowOverGlenRehab.
SLOW trailers that display a message for drivers to slow down when exceeding the speed limit will be posted throughout our neighbourhood in September/October. Please do not park directly in front of the trailer as your vehicle will obstruct the display board for approaching vehicles.
The City of Calgary has completed their noise study along Glenmore Trail and a summary of these results is listed below. As 2 of these locations have a noise level over 65 dBA (the city maximum for a truck route), the city will be discussing with the traffic committee, possible noise mitigation measures.
| | | |
| --- | --- | --- |
| LOCATION | LAKEVIEW CA NOISE STUDY RESULTS | THE CITY OF CALGARY NOISE STUDY RESULTS |
| 5408 Ladbrook Drive | Under 65 Decibel | |
| 5828 Londonderry Cr | | Under 65 Decibel |
| 6123 Lockinvar Road | Over 65 Decibel | Over 65 Decibel |
| 2944 Lathom Crescent | Under 65 Decibel | |
| 6020 Lacombe Way | | Over 65 Decibel |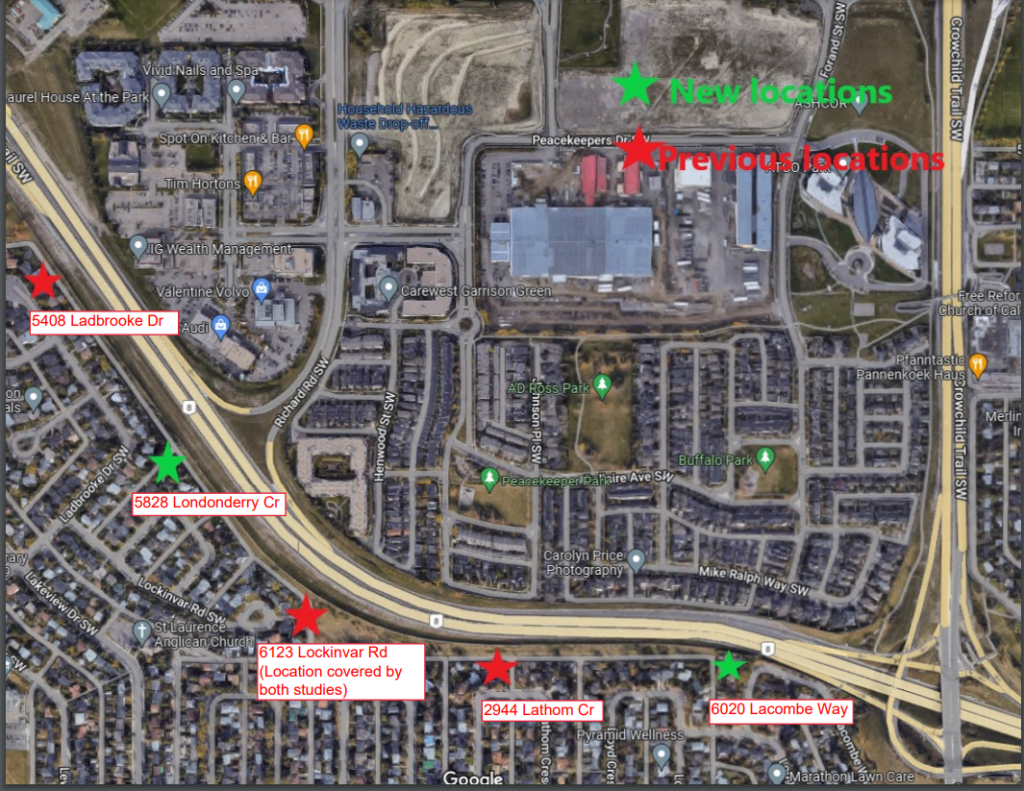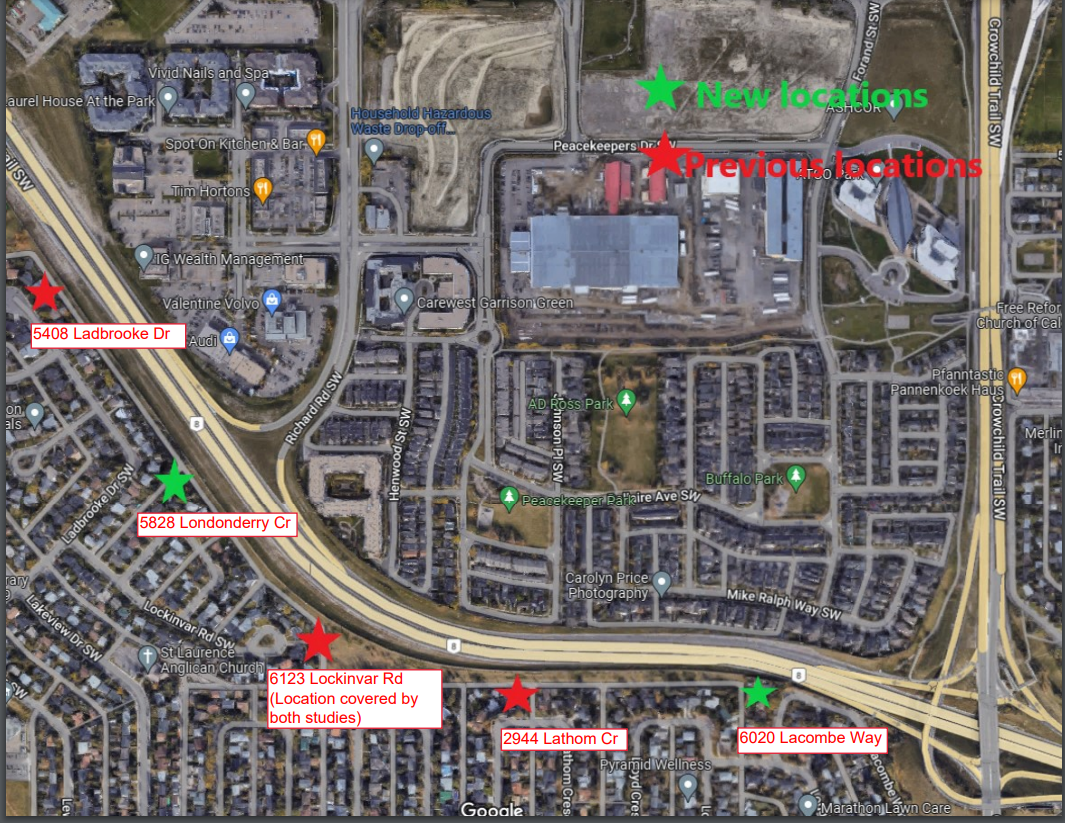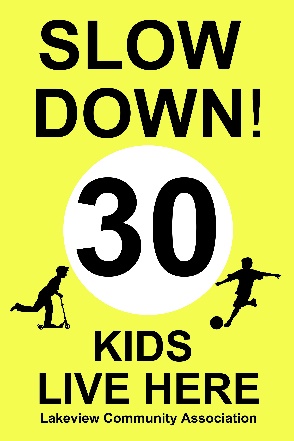 The LCA has made a couple of speed signs that have the posted speed limits (one for 30km/h and the other for 40 km/h) on them with a message to slow down. If you are interested in having a sign to place on the street outside your home, please send an email to

[email protected]

to make a request.
We have heard several concerns from residents about drivers and cyclists not stopping at marked crosswalks and yielding to pedestrians in that crosswalk. As a driver/cyclist you must stop and then wait until the pedestrian has left the roadway before continuing on your way. Otherwise, this may cost you a fine of $810 and 4 demerit points. Please remember to drive safely.
For speeding concerns, please contact the Calgary Police Service on their non-emergency line: 403-266-1234 or submit a traffic service request (TSR) on their website.
If you have any traffic concerns or questions, please send an email to [email protected].
Upcoming Full Bridge Closure – September 29th to October 1st
Our next full bridge closure is anticipated to start Friday, September 29th at 9 p.m. and the bridge will re-open at or before 9 p.m. on Sunday, October 1st.
It's important to note, the Eastbound Glenmore Trail off-ramp turning onto Southbound Crowchild will be CLOSED from 5 a.m. to 12 p.m. on Saturday, September 30th for paving. Commuters heading into Lakeview will need to take a detour through 37th Street or take an alternate route.
Pathway Closure
To build the multi-use pathway, the west sidewalk on the bridge and part of the pathway on Crowchild Trail are anticipated to remain closed until October 15th. Detour signage is posted in this area to guide pedestrians and cyclists.