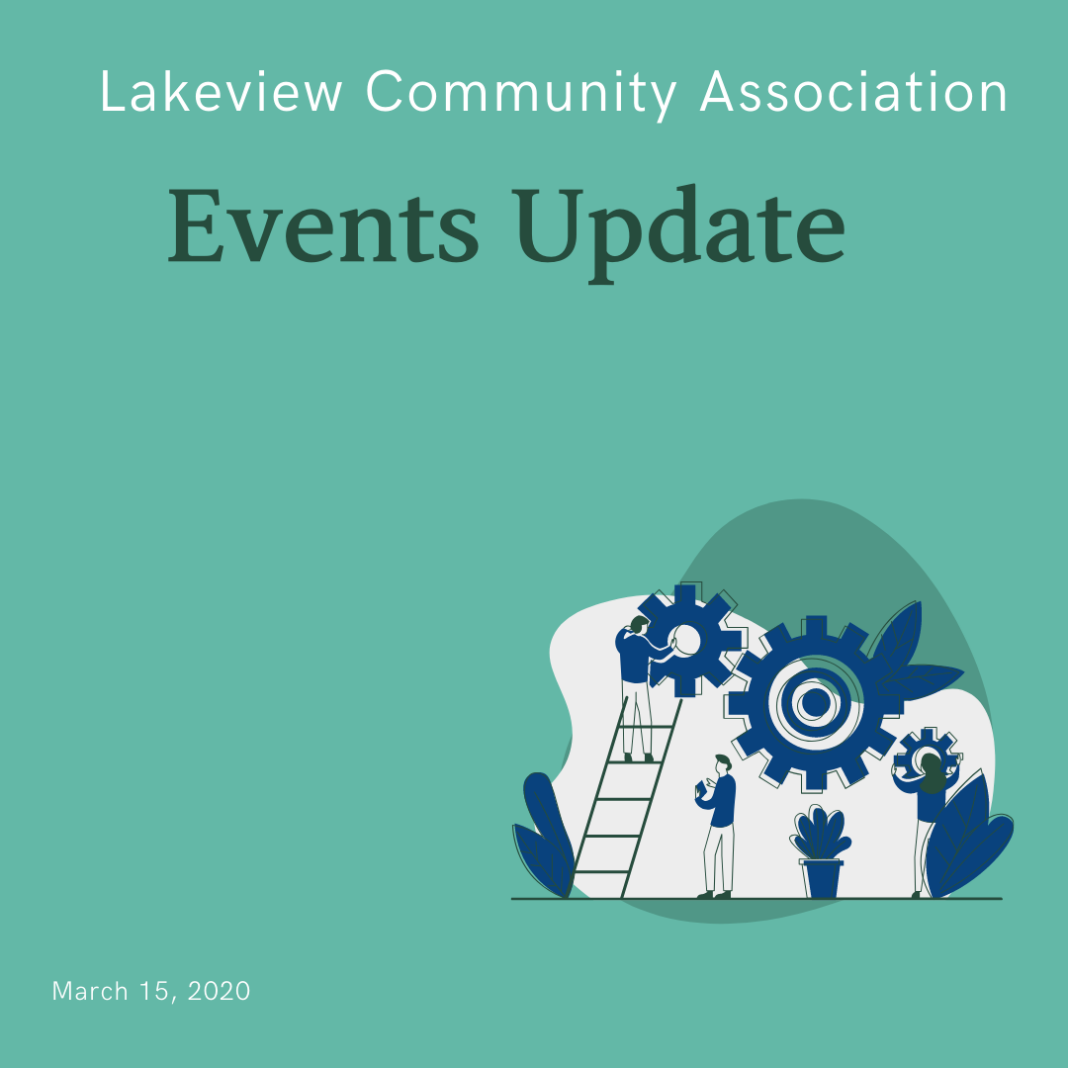 Lakeview Neighbours;
The purpose of this email is to communicate status of several Lakeview Community Association (LCA) activities. The LCA has reviewed activities that have been initiated and other activities that are still in the planning phases. The LCA wants what is best for our community. We are following guidance from Alberta Health Services (AHS) regarding COVID019 and will provide updates if necessary.
( https://www.albertahealthservices.ca/topics/Page16944.aspx )
The dates for the following activities have been revised:
Pre-School
Our priority is for the wellbeing of our students, teachers and families and we've made the difficult decision to close the preschool next week, March 16th to 20th. As you may know we were already scheduled to be closed from March 23rd to 27th for March Break. We will re-evaluate the situation at the end of March Break and provide parents an update before March 30th.
Karaoke Night
The original date of March 28 is being postponed until a future date.
Lakeview Wine Appreciation
Cancelled
LCA Soccer
Cancelled
Lakeview Volunteer Appreciation Day
Cancelled
Cleanup Day
Cancelled
Fun Day
Cancelled
Lakeview Community Hall
The Lakeview Community Hall will remain open.
Thank you to all the volunteers that have worked to plan and update all these LCA activities.
Thank you also to all the Lakeview residents who are helping their neighbours. A recent example of a new local "Grocery Angel" popping up and numerous "Snow Angels" have been reported.
Yet another example of how supportive a great community like Lakeview can be, especially in extraordinary circumstances.
Be safe, have fun, and please let us know any time of any needs, concerns or comments.

Regards
President, Lakeview Community Association Board of Directors
Marshall E Pope effective September 2018

We acknowledge that Calgary sits on Treaty 7 territory, on the lands of the Niitsitapi (Blackfoot), Iyarhe Nakoda, and Tsuut'ina Nations, as well as Region 3 of the Alberta Metis Nation.